Future needs background
Future needs background!
Writing about Arabian horses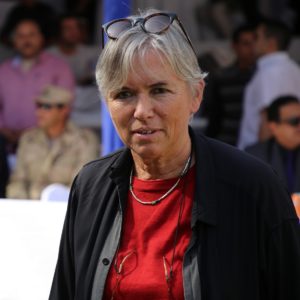 Monika Savier is both a breeder of Arabian horses and a prolific writer on many topics associated with the history and the contemporary organization and institutions and breeding practices surrounding this particular horse which is renowned for its beauty and its strength. Savier´s work covers many areas, historical, anthropological and journalistic. Not only is she interested in recording and preserving what we might call the ´social world of the Arabian horse`, she also stresses the importance of developing perspectives which recognize and respect the ´soul´ of the Arabian horse, and she points to the ways in which strong ethical values can be promoted in the shared living space of human and animal. These issues take on special importance with globalization, and with the expansion of breeding possibilities made available through science and new technologies. Likewise Savier is concerned with the kind of environment that is provided so that these horses can lead a full existence, not shaped by immediate human needs.
She is interested in the documentation of the early forms of horse trading, in particular how the European courts in the early modern period dispatched courtiers as travelers with the aim of purchasing from some of key studs in the Arab world. She is also fascinated by the breeding practices among the Bedouin tribes which in such a harsh environment nevertheless managed to produce some of the most desirable horses in the world. In the articles by Savier close attention is also paid to the cultural and religious values surrounding the breeding practices as well as the impact and role of environmental features. Savier is very familiar with most of the key accounts from original sources which have described the practices and the cultures of breeding. With a long historical gaze spanning many centuries, and with a sharp sense of the political and economic import attached to the West´s increasing search for and reliance on an improved stock of horses for use in war, conquest and for domestic purposes, and thus with the West looking, (as part of the process of Orientalism , to the East for this valuable knowledge, Savier locates the Arabian horse as a profound symbol of power, of hope, of kinship and intimacy between man and animal life, and of cross cultural dialogue as well as of global inter-dependency.
Savier´s written work includes a) the history of the Arabian horse, b) breeding, maintenance and stud management practices, c) interviews with leading breeders from across the world d) cultural values associated with the Arabian horse e) visual imagery and documentation f) the daily life and ethical values of horse breeding practiced in her own Tre Balzane stud in Umbria.
Professor Angela McRobbie
Department of Media and Communications,
Goldsmiths, University of London,
New Cross,
London SE 14 6 NW